I remember as a child, I never wrapped my hair before bed. Even in my teen years and early twenties, I didn't even wrap my hair up. Now that I am on this hair journey, this question has been one of mine for the last 2 years.
During my hair journey, I can honestly say that I do try to wrap my hair up every night to protect my styles but there are those times that I either forget to do it, or traveling and forget to pack it.
I noticed when I do not wrap it up, the hair is frizzy, and it requires more manipulation when attempting to "fit it up."
When hair is wrapped, it is more silkier, soft, and easy to handle. What I normally do is, wrap the hair one way for the first day, then the next day, wrap it the opposite way. I try not to keep it in the same form or else thinning will occur.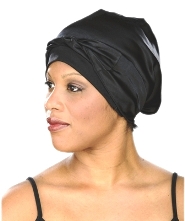 So to answer the question....YES! DO WRAP YOUR HAIR TO PROTECT YOUR STYLE, KEEP HAIR SOFT AND MANAGEABLE.