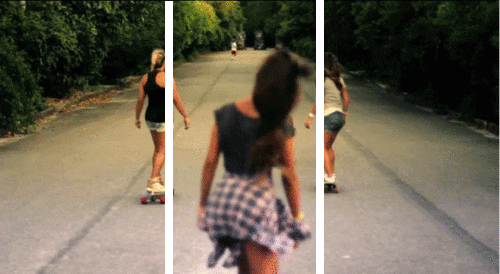 Nike, the leading brand in shoes and sneakers has finally released its shoe dedicated to skateboarders. How cool is that? With sneakers designed specifically for various other sports including gold ( um huh?), it's a no-brainer that this was due.
"In skate, your feet are your hands," Carboy said in a statement. "The more feel you have for your board, the better positioned you are to pull off a trick. With Nike Hyperfeel, we've focused on ways to create a symbiotic relationship between your feet and your board."
You see how the guy in the gif flipped the board with his shoes on his feet? So Nike is saying that their shoes, created with Flyknit Technology can actually do more than that? Well it does according to creator of shoes, pro skateboarder, Eric Koston.
"The Flyknit collar is about fit and sensory," Koston said in a statement. "You feel your shoe connected from your ankle all the way down. Subconsciously, you feel the shoe doing what you want it to do."
Interesting, maybe this can change the path my life is taking just by walking with the shoes.
The Nike Koston 3 is in stores now and retails now for of course more than $120. Which honestly, on a budget, I do not spend more than $120 on a pair of sneakers. BUT for those of you interested, check them out. They look pretty cool.
And oh yea, girls look pretty damn good on skateboards, just ask wonder-woman.