I am like an Instagram Junkie, I can never get enough of it. I literally check my IG at least five times every hour. Normally I'm just searching for food ideas, crafts, places to visit, results, fitness related searches, hair related searches, or whatever else my mind comes up with. But since it is "Fit-Tuesday," I have to narrow it down for today.
In today's Instagram Fit edition, I would like to feature Jenelle L. Salazar or better known as GetBodiedByJ. With her struggles with weight since she was a little girl, Jenelle has transformed her life completely to be the healthiest -confident in her body person I have encountered. Now she trains many, including celebrities while still working out herself. What I love about her is that she is completely honest. She tells you what works, what doesn't, her struggles, her insecurities, and more. She's real about it, including work that she had done prior to finding that working out would give her the same look.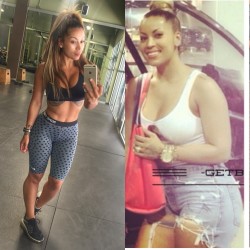 GetBodiedByJ is my fitness inspiration for today.
Contact information: